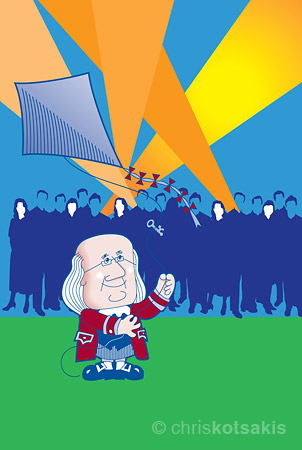 Chris Kotsakis, Illustrator, Cinnaminson, New Jersey
Chris lives in Southern New Jersey in the same house where he first discovered his passion for art after doing an extraordinary job drawing his favorite characters from Greek Mythology at age 5. His 20 year professional illustration career has been influenced by his love of comic books and adventure heroes like Sherlock Holmes and Indiana Jones. Former collaborators have described his bold, graphic style as "visually stunning" and commended his professionalism and ability "to deliver superior work from concept to completion."

Since graduating from the Illustration Department of Philadelphia's University of The Arts in the early 1990's, his work has appeared in many Awards Shows and Annuals including The Dimensional Illustrators, The RX Club Show, and The Art Directors Club of New York. He has received many awards, and his work has been featured in numerous directories and showcase books such as Applied Arts, Dimensional Illustrators Awards Annual, The Rx Plus, The Philadelphia Creative Directory, and Workbook.

His work will be appearing in 2012 edition of Serbin's Directory of Illustration as well as The Play Illustration website for toys and interactive games.

In a fully equipped studio, he utilizes various mediums combining traditional art techniques and digital technology. He has worked in all fields of Illustration such as Advertising, Editorial, Publishing and online content. In recent years, Chris has been newly invigorated by exploring the world of children's art and illustration, from concept art for children's books to product design. Chris is continuously inspired in this area by the recent arrival of his first child.